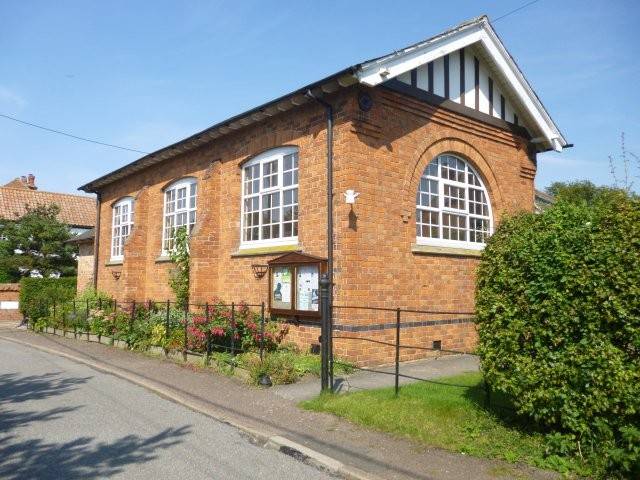 Plungar Village Hall was built in 1900 as a gift to the village and is managed by a committee.
From September to April there is a programme of concerts and themed meals.
A number of interest groups hold regular meetings at the Hall.
The Village Hall is available for hire and provides an excellent local venue for holding parties.
Facilities:
The Hall does have disabled access and disabled toilets. Please note there is very little parking space directly outside the Hall.
The Main Hall can accommodate a maximum of 70 or 60 (just!) seated at tables. 60 comfortable chairs are available, together with ample tables of various sizes.
There is a basic sound system; we don't have Bluetooth connectivity but there is a 3.5mm jack to plug in a phone or tablet.
By arrangement, the stage lights can be set to provide a simple "disco" light show.
Also by arrangement, a simple stage (12'x8'x1') can be provided.
Wi-Fi Internet is available.
The Kitchen is well equipped with a large domestic cooker (gas hob, electric oven) and two microwaves. There is a domestic size fridge with limited temporary freezer space (e.g. for storing ice). Crockery, cutlery and glasses for 60 are available. Tablecloths are available; these should be laundered and returned within one week of hire or alternatively a laundry charge can be paid.
Charges:
Plungar residents: £6.00 per hour
Parties: £25 (includes setting up and clearing away)
Non-residents: £10 per hour
Commercial users: £20 per hour
A deposit of £20.00 for all bookings is required against breakages.
For more information or to view the hall and its facilities contact the Booking Secretary:
June Grant: 01949 860928 or email at: juneandmalcolm@gmail.com